Here are my picks for Follow Friday this week. Get excited people.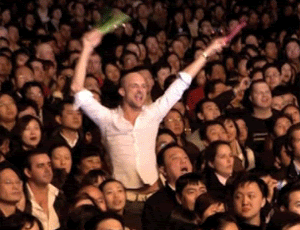 @
josephthomas
: The Glo-Stick gif posted above is his favorite (or at least I claim that it is). He's funny, he posts lots of pics, and he will interact with you if you are rad enough. Give him a shout out! You won't regret it!
@
grimalkinrn
: Accidentally stumbled into #SMmanners chat and kept me laughing the entire night! Funny, ridiculous, and great at random discussions. Claims to be a Mean Girl and hate John Mayer. Say what you need to say, say what you need say.
@
lizzayn
: She's a writer and huge sweetheart. She keeps you up to date on the happenings (as well as her writing) but she won't flood your timeline. She also has kept encouraging me to reach for the stars which I dig! If that's not convincing enough -- she has a quote from Gene Wilder in her bio!
@
zombienicole
: I seek her tweets out when scrolling through my timeline. She keeps it real, she keeps it fresh, she keeps it funny. I love her honesty and her bravery. I also love the pics that she posts! Tell her hello, she will most likely respond!
@
insanetruckdriv
: Ever wonder what it's like to be a truck driver? NOW YOU KNOW! He tweets daily about life on the open road and shares his adventures from all across the country. Pretty awesome. He has a great sense of humor, too!
@
willdobbs
: He is into Social Media and always sharing information and tips. He's friendly and great at interacting with his followers. I hope to get him to participate in the #SMmanners chat very soon. Following him will keep you in the Social Media loop.
@
risingspivey
: This woman is going to change the world! She is encouraging, outspoken, and amazing. Her interests are varied so you don't have to worry about her clogging up your timeline with the same old stuff all the time. Ask her how you can become a #ChangeAgent.
@
serrot
: She has an incredible sense of humor and a wide variety of interests. She is always interacting with her followers and keeps any and all conversation lively. She is always awesome about relaying important information from all over the web! I have come to rely on her connectedness to many different issues, etc. I dig her taste, too.
@
diggs31
: He is a total sweetheart and I love talking to him (just about) every day. He is FULL of positive energy. He is a great conversationalist AND asks me really interesting questions. I always get excited when I see him on my timeline. Introduce yourself to him! Seriously!
@
paulpannone
: Want to know anything/everything about the wedding industry? I suggest you follow him, as well as @
ewednews
right now. Not only is he a great blogger and fact-gather, he is also incredibly friendly! One of the first people I connected with on Twitter and I still dig him.
BONUS: @
KyleMcShane
: I met him this week during the #SMmanners chat and he had a lot of great input. He's into Social Media and he knows what he's talking about.
Need more rad people to follow? Previous Follow Friday posts
HERE
HERE
and
HERE
.